Daisy May & Me: Inspiration and positive living
If you could sum up your relationship with your spouse in one word, what would it be?
What word do you wish it could be?
We have so many different relationships that we are constantly juggling, but I think our relationship with our spouse tends to take a backseat when life gets chaotic, especially with children.
I'm not sure if it's because we feel solid in that relationship, or we just assume there's a mutual understanding that we'll just pick up where we left off when things settle. I'm not sure why, but I definitely know that it happens, often.
We can't afford to put this relationship on the back burner. The relationship we have with our spouse is one of the most important relationships we have. It should be one of our biggest priorities because let's be honest, life is never going to calm down.
In this post, I'll tell you why this relationship is so important and how we can make it a greater priority. I think you'll find many benefits to strengthening your relationship with your spouse.
What's something that you and your spouse enjoy doing together?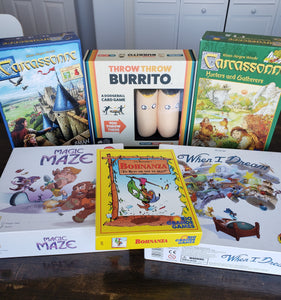 For as long as I can remember, my family has played games together. I know I did a lot of things with friends on the weekends, but we also always played a few games together too. 
Now that I have my own family, that obsession has not stopped. We are constantly looking for new games to add to our shelf and we love introducing friends and family to new games. I look forward to playing games with my own children as they get older because I hope they enjoy the opportunity to spend time as a family. 
While it's possible that there will be fighting, or crying, or even cheating, games also bring conversation, laughter, and joy. They can help with critical thinking and can even help kids (and adults...) to understand and develop sportsmanship. 
If you're tired of the classic board games we all know and love, I have a few suggestions for you in this blogpost!