Daisy May & Me: Inspiration and positive living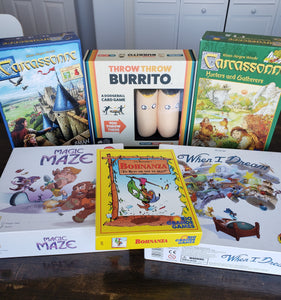 For as long as I can remember, my family has played games together. I know I did a lot of things with friends on the weekends, but we also always played a few games together too. 
Now that I have my own family, that obsession has not stopped. We are constantly looking for new games to add to our shelf and we love introducing friends and family to new games. I look forward to playing games with my own children as they get older because I hope they enjoy the opportunity to spend time as a family. 
While it's possible that there will be fighting, or crying, or even cheating, games also bring conversation, laughter, and joy. They can help with critical thinking and can even help kids (and adults...) to understand and develop sportsmanship. 
If you're tired of the classic board games we all know and love, I have a few suggestions for you in this blogpost!