Daisy May & Me: Inspiration and positive living
Annnd we're back!

Due to popular request, we're talking about gratitude this month, so what's a better book club pick than...

The Gratitude Diaries by Janice Kaplan

Janice Kaplan is a journalist and former Editor-in-Chief of Parade magazine. One New Year's Eve she had the desire to show more gratitude in her life for a whole year, and this book details her experiences and extensive research on gratitude in all aspects of life. She's a great writer, guys! It's very fun and insightful to read.

⏱: 305 pages (8 hours & 12 minutes for the audiobook - read by the author)

📖: Unlike our previous picks, this book is more of an adult read; however, this book has so many applications for families. We're excited to talk with you about all of the different things we can implement in our families and relationships.

Ready for your family book club meeting? This is the post for you!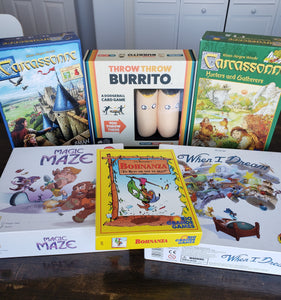 For as long as I can remember, my family has played games together. I know I did a lot of things with friends on the weekends, but we also always played a few games together too. 
Now that I have my own family, that obsession has not stopped. We are constantly looking for new games to add to our shelf and we love introducing friends and family to new games. I look forward to playing games with my own children as they get older because I hope they enjoy the opportunity to spend time as a family. 
While it's possible that there will be fighting, or crying, or even cheating, games also bring conversation, laughter, and joy. They can help with critical thinking and can even help kids (and adults...) to understand and develop sportsmanship. 
If you're tired of the classic board games we all know and love, I have a few suggestions for you in this blogpost!