Daisy May & Me: Inspiration and positive living
This month, we're talking about something that only recently has been taken more seriously.
Mental health. 
We have the perfect book club pick that focuses on mental health awareness and our relationship with our mental health. 
The Science of Breakable Things by Tae Keller
Natalie is a seventh grade, quarter-Korean girl whose mom is struggling with depression. We'll follow along as Natalie works through an interesting science project, her feelings about what's happening in her family, and the internal battle she faces with how much to share and how to make things okay again. 
I read the majority of the book within two days, so that should tell you something!
It's 292 pages and the audiobook is 5 hours and 12 minutes.
Reading level is grades 3-7 (ages 8-12). This one can be read to younger kids, but some things may need extra explanation. 
This book really is an incredible illustration of mental health and it's perfect fit for a family book club. I think you'll have a pretty amazing discussion with this one.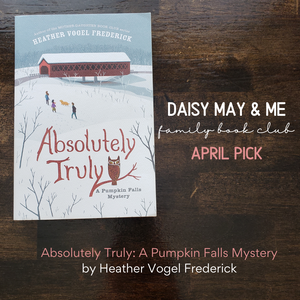 A new month means a new book for the Daisy May & Me Family Book Club!
We hope you enjoyed last month's book as much as we did, and we think you'll enjoy this one too. April's pick is...
Absolutely Truly: A Pumpkin Falls Mystery by Heather Vogel Frederick
We're talking about family relationships this month and Absolutely Truly is a great example of that. We'll read about Truly, a 12-year-old girl who moves from Austin, Texas to the small city of Pumpkin Falls, New Hampshire. She'll navigate relationships with her parents, siblings, and her aunt, as well as new friendships, all while trying to solve a mystery! And she's 6-feet tall, so that adds a fun element too. 
It's 355 pages and the audiobook is 8 hours and 1 minute.
Reading level is grades 3-7 (ages 8-12) but another one that can be read aloud to younger kids. 
We hope you'll join us. We think you'll absolutely truly enjoy it. ;)
Check out this blogpost for more information and for ideas for your family book club meeting.
Introducing the Daisy May & Me Family Book Club!
This is an opportunity for families to read together and have fun! Books are a great way to learn about other perspectives, including our own.
We will pick the book, we'll give you a reading schedule, discussion questions, activities, food & decoration ideas, etc. You get to read awesome books with your family! 
This month we are talking about online relationships, so we've chosen Insignificant Events in the Life of a Cactus by Dusti Bowling as our book club pick. 
We'll read about Aven Green, a 13-year old girl who was born without arms. She moves to Arizona - to a new school with people that she doesn't know and that don't know her. She learns how to adjust and tries to make new friends. Oh, and she lives at a theme park. How fun is that?! 
It's 288 pages. The audiobook is 5 hours & 30 minutes. 
The reading level is grades 3-7 (ages 8-12), but it can easily be read aloud to younger kids. 
Dive into Aven's story with us! We think you'll find her pretty incredible and you'll love her just as much as we do. 
This post has a full explanation of family book club and all of the details for the March book. 
What do you think? Will you read along with us?