Daisy May & Me: Inspiration and positive living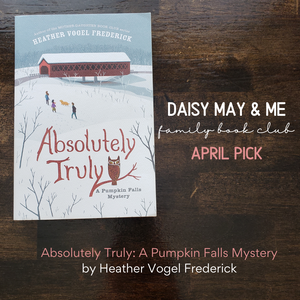 A new month means a new book for the Daisy May & Me Family Book Club!
We hope you enjoyed last month's book as much as we did, and we think you'll enjoy this one too. April's pick is...
Absolutely Truly: A Pumpkin Falls Mystery by Heather Vogel Frederick
We're talking about family relationships this month and Absolutely Truly is a great example of that. We'll read about Truly, a 12-year-old girl who moves from Austin, Texas to the small city of Pumpkin Falls, New Hampshire. She'll navigate relationships with her parents, siblings, and her aunt, as well as new friendships, all while trying to solve a mystery! And she's 6-feet tall, so that adds a fun element too. 
It's 355 pages and the audiobook is 8 hours and 1 minute.
Reading level is grades 3-7 (ages 8-12) but another one that can be read aloud to younger kids. 
We hope you'll join us. We think you'll absolutely truly enjoy it. ;)
Check out this blogpost for more information and for ideas for your family book club meeting.